I love theatre. I love all different types and styles of theatre: Shakespeare, Brecht, Stanislavsky, Artaud, Grotowsky, Meyerhold, Lecoq, agitprop, avant garde, physical theatre, mime, puppetry, theatre of the absurd, naturalism, modernism, post-modernism. I can go on. I love the moment when the lights dim and then it's often a journey of the mind and the emotions until applause breaks out hours later and I remember I'm in a theatre again. And the best theatre transports not just the imagination, the mind, the emotions but the soul. Think of McKellen in Richard the Third, and Godot and Lear. Dench in Macbeth. Rylance in Twelfth Night and Endgame. Ralph Fiennes in The Tempest. Graeae Theatre are great in everything they do, but Bent was magnificent!
Leave the caves of being. Come. The mind breathes outside the mind. (Artaud.)
As kids, we all experiment with theatre from the moment we start to play. Role play. Then we get creative and try and refine what we do. A talented young actor said to me this week about her GCSE performance piece, 'My play is pretty dark.' We explore issues we don't want to happen in our own life from the safety of the stage. I remember being allowed to 'do' an assembly as a kid at school, making experimental theatre, a row of friends in black clothes with white masks jerking around to sombre music,  me dressed up in a long black cloak and a skeleton mask. A girl called Higby tried not to breathe while lying on a table under a cloth as I intoned the John Donne lines, below:
Death be not proud

Though some may call thee mighty and dreadful

For though art not so
I thought I was cool. My friends thought it was funny when some of the teachers took out hankerchieves and snivelled. Looking back, I wasn't cool or funny. I was using the stage to prod people's emotions about a subject I then knew nothing about, when the audience clearly did.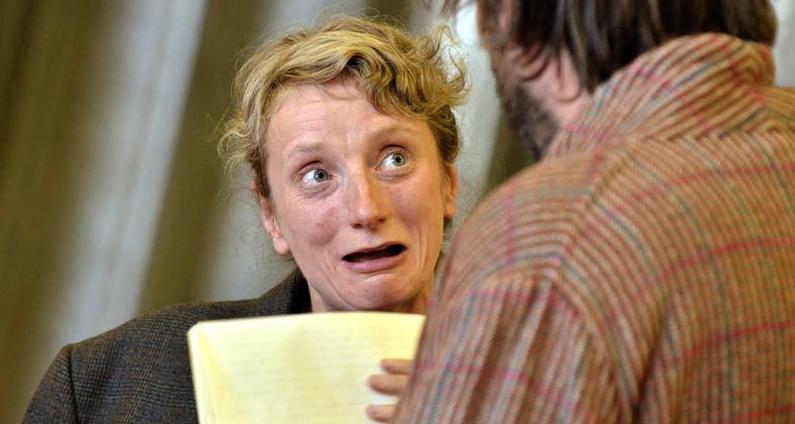 Some years later, I directed The Mother, a great and often ignored play, by Bertolt Brecht. The lead was played by a talented young actor who is now Amanda Lawrence. Remember her performancein the film,  Suffragette. Then, she was just as magnificent as Pelagea Vlasova, the eponymous mother.
She spoke a line in The Mother which has always stayed with me. Resonated.
Do not fear death so much but rather the inadequate life.
Simple words but profound. A motto. A guide by which we can make our lives more meaningful. Death, of course, is The undiscovered country from whose bourn No traveller returns. We don't know what to expect. Many people offer many suggestions about death, what comes afterwards. Heaven, Hell, The Afterlife. Or, of course, it could be nothing at all. I love the way Andrew Scott said the lines of Hamlet's soliloquy recently. Not the often spoken  To die, to sleep No more… but To die, to sleep. No more. There's the rub. That's it. The end. Nothing. Infinite space. Brilliant interpretation.
Hence the importance of making life all we can make it. Not to spend it fearing something which might happen, will certainly happen, but packing present time with good things: kindnesses, learning, making fun, loving, excitement, creating, contemplation, mischief, dancing on tables, making music, hugging, laughing, whatever is 'adequate' and beyond. I recently spoke to a fascinating vicar, who suggested that GP doctors, rather than ask patients 'Do you drink or smoke?' as lifestyle questions, should ask 'What makes you truly feel alive?' She has a point. It's a question we should ask ourselves from time to time. We need to strive for good health, but we also need to live an adequate life, at least. So many people live inadequate lives, bound in circumstances they can't control and can't escape from, and it's both a tragedy and a travesty. Brecht's words are a bare minimum: we should expect and work towards adequacy, at least.
Artaud explains how theatre motivates and shapes our experience,  in his own passionate way. Theatre inspires us to move away from inadequacy and mundanity towards something which can truly change lives .
A real theatrical experience shakes the calm of the senses, liberates the compressed unconscious and drives towards a kind of personal revolt…
This week, my little cat was knocked down in a lane where only three vehicles pass each day. Pushkin. I rescued her two years ago, a skinny, starving stray in a city and she rewarded me with one thing I don't find anywhere else. Unconditional time. If I called her, she'd come and rub her face against mine. She'd lie in the crook of my arm when I was typing. She'd pat my face, stroke it, show me her tummy and ask for hugs. Humans can't give you that. Humans are always too busy doing something else, aren't we? That offer of unconditional time has gone now. But theatre is always there, ready with a quotation, something which fits the bill exactly and clarifies the moment and explains how grief affects us. Brecht again The Mother, after her son Pavel is shot. It wasn't reason that made me weep. But when I stopped, reason had something to do with that.
I've lost my best ever cat. I hope she had an adequate life. She wasn't much more than four years old. Now Shakespeare's words come to me:
And will he not come again?

  No, no, he is dead,

  Go to thy deathbed.

 He never will come again.
So, Brecht was right about fear. Not death, but an inadequate life. The inadequate life is to be avoided and we must make the most of each moment. Theatre is a condensation of life in the form of a play, and there are pithy words for every occasion.  All the world's a stage, as Shakespeare said, and we need to make the most of the short hours traffic of our stage before we end up Sans teeth, sans eyes, sans taste, sans everything.
Brecht had a more than adequate life: women adored him, his plays were well received, he was a prolific writer, although he was a refugee, his plays blacklisted due to his Marxism. That's more than adequate, though. That's inspirational.
Artaud was a genius, flawed and hospitalised. He died alone in a psychiatric clinic, at the foot of his bed, clutching his shoe.
Meyerhold was brutally tortured and sentenced to death by firing squad. He said:
I want to burn with the spirit of the times. I want all servants of the stage to recognize their lofty destiny. I am disturbed at my comrades' failure to rise above narrow caste interests which are alien to the interests of society at large. Yes, the theatre can play an enormous part in the transformation of the whole of existence.
Their lives weren't inadequate, though. Far from it. They were game changers, all of them. Inspirational people. Their theatre is energising, enabling us to suspend disbelief, so that our souls soar and reach out for new ideas, making our lives richer and our hope to rise above mediocrity becomes intense, greater. As Swiss director and performance artist Natasha Tsakis says:
We know the Arts are the archives of our human history, the wind of invention and the heartbeat of humanity
That's well above adequate. I'll aspire to that.