Several years ago I saw Ralph Fiennes as Prospero in The Tempest. It was directed by Trevor Nunn, at the Theatre Royal, in 2011. Ralph, as in Salph and Sound, had only been on stage for twenty seconds. He hadn't spoken a word. He simply raised a digit slowly into the air and -pow! Thunder crashed  and lightning split the stage. That is the sort of performer he is: autocratic and accurate and absolute in his instinct.
The Tempest isn't one of my favourite Shakespeares but Fiennes as Prospero was commanding and powerful, yet vulnerable and utterly convincing. We were in Salph hands.
So, Fiennes as the villainous Richard the Third in Rupert Goold's Almeida production, screened live to cinemas on 21st July, could only promise to be thrilling  theatre.
The play begins with Richard's skeleton being discovered in a grave in a Leicester car park. The grave is the centre point of the stage and sets the context for the play as the archaeologist pulls out the twisted length of a spine and lifts it high. The lights change and we are in the fifteenth century and Richard sways forward, dragging the audience into his seething monologue:
But I, that am not shaped for sportive tricks,

Nor made to court an amorous looking glass;

I, that am rudely stamped and want love's majesty

To strut before a wanton ambling nymph;

I, that am curtailed of this fair proportion,

Cheated of feature by dissembling nature,

Deformed, unfinished, sent before my time

Into this breathing world, scarce half made up,

And that so lamely and unfashionable

That dogs bark at me as I halt by them—

Why, I, in this weak piping time of peace,

Have no delight to pass away the time,

Unless to see my shadow in the sun

And descant on mine own deformity.
Fiennes delivers to us a callous misogynistic Richard who is ambitious, cunning and intent on achieving power at any cost. He dissembles and lies to other characters but with the audience he is honest, brutal, sometimes exposed in his weakness, but always scheming and self-obsessed.
There are times when he is funny. The scene where he pretends not to want the crown, but holds out the Bible and feigns piety, is hilarious: Fiennes becomes a master of stand-up comic timing. But then there are the murders and the deliberate schemes to strike his enemies and we know everything he does is done to further his own position.
The scene in which he persuades Anne to marry him while she is mourning over her dead husband's corpse is outstanding. A difficult scene to achieve for actors- one minute Anne curses him, spits at him, then he asks her to kill him: she almost does it, then agrees to marry him. However, the rapport sizzles: we understand the motivation for Anne's acquiescence in the face of Richard's power, his craftiness and his sexual assault of a vulnerable woman. Anne becomes prey and victim and we the audience believe every moment. She is merely a step towards Richard's achieving the crown: I'll have her; but I will not keep her long.
Richard's interaction with women is a key theme of the play. Fiennes' King holds no respect for women. He has no natural affection  for his mother and he repels Margaret's bitter curse with a single swipe. He is indifferent to the fact that he has brutally murdered Elizabeth's sons: he tells her that he will marry her daughter as recompense:
If I did take the kingdom from your sons,
To make amends, I'll give it to your daughter.
If I have kill'd the issue of your womb,
To quicken your increase, I will beget
Mine issue of your blood upon your daughter
Goold then directs the scene shrewdly and with breathtaking impact: Richard rapes Elizabeth. He is violent in his abuse and she quickly leaves the stage: she has not acquiesced, but she is shaken and violated, and when she has gone he shows no remorse, but calls her a : Relenting fool, and shallow, changing woman!
It is perhaps at this point that we realise the monstrous king must die.
Fiennes is outstanding as Richard but this isn't a one-man show. Vanessa Redgrave is magnetic as the cursing Margaret, carrying a doll which represents dead babies, feeding it alcohol from a glass. There is a powerful and tender scene where the three mothers, Margaret, Elizabeth and  the Duchess of York, combine their sorrow and lament the death of their children. Margaret advises Elizabeth to experience as much bitterness and pain as she has known in her own life and the three women combine in a curse as powerful as anything in Macbeth:
Think  that thy babes were fairer than they were,
And he that slew them fouler than he is:
Bettering thy loss makes the bad causer worse:
Revolving this will teach thee how to curse.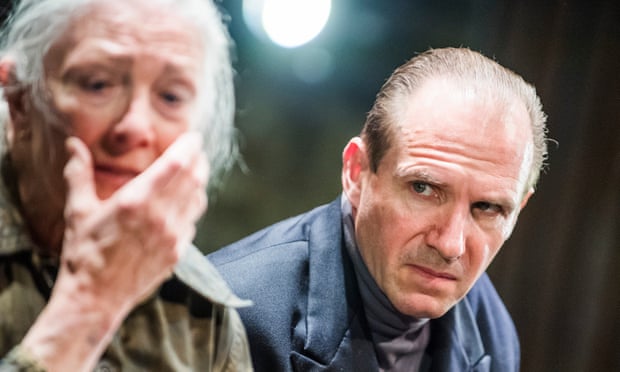 The performances of Aislin McGuckin, Joanna Vanderham and Susan Engel as Elizabeth, Anne and The Duchess of York are powerful: although they are each in turn the object of Richard's maltreatment, they are still vocally compelling and each creates a taut and credible victim while demanding to be heard in their own right. They are no pushover, demonstrating the extremity of Richard's heinous behaviour towards them. James Garnon as Hastings is perfect: the scene in which he realises Richard has duped him and he is to be killed is a triumph of characterisation. Finbar Lynch makes a superb Buckingham, perfectly balanced as a liar and cheat and as a victim of Richard's fickle allegiances. Daniel Cerquiera's Catesby is exactly right: the noble thug who does all Richard's dirty work with impressive efficiency.
Each moment is a gem – there are no sagging scenes in the play. The final action where Richard is visited by the ghosts of his victims, and the Earl of Richmond has a contrastingly peaceful night's sleep, is intense and thrilling as both men sit at the same table and the ghosts speak first to Richard then to Richmond, and we sense the outcome of the next day's battle.
The final battle scene is everything it should be- loud, crashing and quick, with Richard repeating his famous lines A horse! a horse! my kingdom for a horse! until we can only hear the gasped word horse! and he is killed and falls into the grave where, as the lights fade, we see the archeological excavation and exhumation in February 2013 in Leicester.
Richard the Third ends with a satisfying reminder of where it started: the back story has been filled in and Goold has shown us history on stage. Fiennes has created the character of Richard with physical and vocal perfection: there is the dragging leg and the hunchback, but he does not wheedle or whine. Rather, he plots and simpers and cajoles and threatens; he is mentally incisive and always dangerous. He licks blood from the block where Hastings has been beheaded. He searches the audience for assassins to help him. He is commanding and sinister and lethal and in control.
I would have loved to have been at the Almeida and seen Richard the Third live. It was a close second, though, to be in a cinema auditorium  with another twelve or so people, having the opportunity to watch this fantastic production as it is performed in the capital.
It's an interesting plot factor that  Richard seizes the chance to rule a divided country in difficult times. He sees the opportunity open before him and through his crazed ambition, his ability to deceive and his unswerving determination, he takes his country from stability to division and chaos. Fiennes said of the play that it resonated with what is happening in our own current political climate: "Not through our doing but just because of events happening around us. Suddenly it became full of a pertinence that perhaps it hadn't had before."
Of course he's right. This is exactly the time to be watching Richard the Third and to be considering our own political parallels. Perhaps we're not so Salph!
So where do we start looking?