I'd just been out with friends to The Star, my local pub, for a very lively evening and we came back home and chose a movie. What better than to settle down and  watch 'Third Star'? We were all in the mood for a strong plot, with an actor who always delivers a fine performance, and the film has great reviews. We opened a bottle and pressed play.
It's at this point that I have to warn you, you have to be in the mood for this movie.
Another film which passed me by at the time, Benedict Cumberbatch's 'Third Star' is a story which many people will love. It came out in 2010, and it will suit people who like bittersweet films with a strong element of catharsis and a powerful lachrymose ending.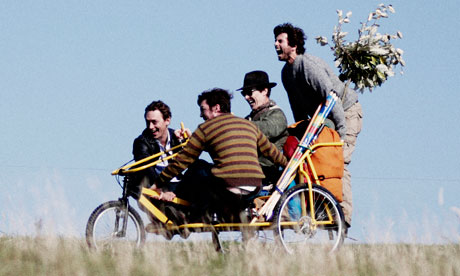 'Third Star' is at times poignant, comical and utterly credible. It features superb acting by Cumberbatch and his three co-stars, Tom Burke, JJ Feild and Adam Robertson. It was the debut film of Australian director Hattie Dalton
It is about four friends who take a camping trip to Barafundle Bay in West Wales, so the film features some incredible scenery, which is one of its great strengths.
The story line, without spoilers, is that Cumberbatch's character, James, is terminally ill and his three closest friends decide to grant his birthday wish and they set off to Wales with an unwieldy wheelchair, a pack of morphine, some fireworks and a tree.
The characters are not always likeable but there are real tensions between them which make the story line work well. There are moments of clever comedy and the script contains some genuinely funny one-liners and some surprisingly raucous scenes, such as the punch-up outside the pub.
Two minor idiosyncratic characters help the well-crafted plot along: the four friends meet a ferryman, complete with unsubtle makeup who asks a ludicrous price for the return journey, and a semi-naked beachcomber in search of Darth Vader.
There are moments where the characters bond; moments where the angry James strikes out and moments where there is friction and dislike, creating characters which blend and fracture and a storyline which breathes pathos. It is an ironic tale of coming-of-age.
Audiences will gasp in delight at the scenery: the beach, the forests, the big skies and sunsets and the dark nights lit by a log fire around which the friends meet to talk, to argue and to celebrate. The film is also abundant with visual metaphors: blown-out candles on a cake, flying crows, crumbling gravestones, rolling waves, fireworks, open skies (both night and day).
Some people will find the film clichéd and sentimental: some will find it beautiful, mesmeric and tragic. Some will think the ending morbid and hard to watch while others will find meaning and comfort in the final scenes.
The four actors explore the theme of friendship and male symbiosis well and their skill creating credible, although at times difficult individuals and a strong but changing rapport is impressive.
It is a film which may divide audiences: some will find it uplifting, others will think it morose, but you can't fault the cinematography for it's images of savage natural beauty or the acting for its accuracy and conviction. Again, Cumberbatch excels, and it is his talent which propels the film forward and makes sense of the the contrived ending.
For me, the film isn't a post-pub pic: I'd have been better watching something with more vibrant action or with a tendency to satirical comedy. But when it's raining outside and you want to feel really miserable, or if you're in the mood for a film where you know you're fortunate to be in good health, then this is a great choice.
I will certainly be travelling to Pembrokeshire, having seen this film, to seek out the fabulous beaches. 'Third Star' ignites the desire to go camping with friends and sit around log fires enjoying star-filled skies and wild landscapes.
I won't be going in the sea, though!